October 7, 2021
Hartig Drug Company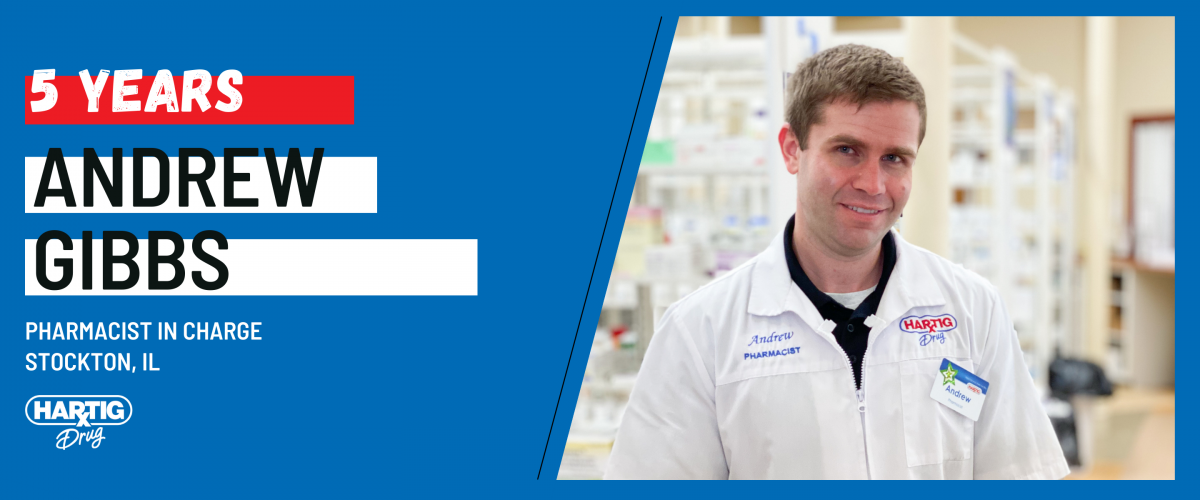 Hartig Drug Company customers are at the core of everything we do, and our employees are how we do it. Hartig Drug employees are the heart that keeps Hartig beating, and we thank all of our employees for their dedication to Hartig Drug and our customers. Today, we introduce Andrew Gibbs, one of the many Hearts of Hartig.
Andrew Gibbs, PharmD, is the Pharmacist-In-Charge at Hartig Drug in Stockton, Illinois.
Andrew is a 2015 graduate of the University of Illinois-Chicago College of Pharmacy at Rockford. Originally from Milledgeville, Illinois, he currently resides in Stockton along with his dog, Emma.
Celebrating his fifth year with Hartig Drug, Andrew states that what he enjoys most about working at Hartig is the tight-knit family feeling it has. Even though Hartig is a corporation, Andrew never feels unseen and has so much fun with his store-level family!
When not working tirelessly behind the pharmacy counter, Andrew enjoys reading books, playing cards and board games with family, and spending time with his dog. He has also volunteered with a local nurse practitioner to do monthly health and wellness meetings in the community. Next month, Andrew will be the guest speaker at a Stockton SOS meeting discussing medication safety.
Andrew's small town, caring, and friendly demeanor is invaluable to Hartig Drug and the Stockton community. Andrew is genuinely a Heart of Hartig.
"I want to thank Hartig Drug company for the opportunity to practice pharmacy in a small town, much like the one I grew up in," stated Andrew.
Thank you, Andrew, for your continued quality service and community involvement. Hartig Drug is lucky to have you!
Looking for a new career? Hartig Drug is hiring! See job openings at www.hartigdrug.com/careers.