September 13, 2021
Hartig Drug Company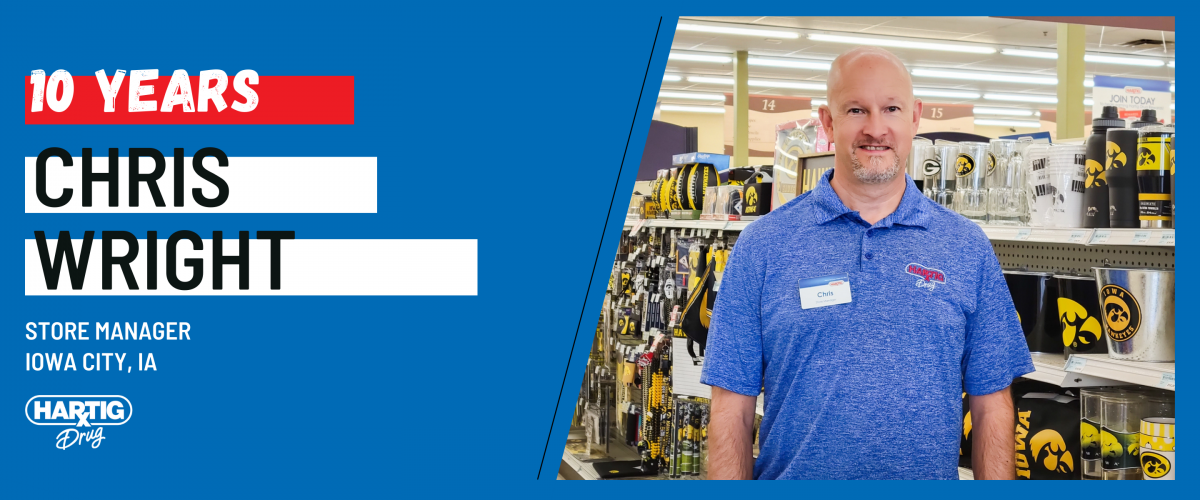 Hartig Drug Company customers are at the core of everything we do, and our employees are how we do it. Hartig Drug employees are the heart that keeps Hartig beating. We thank all of our employees for their dedication to Hartig Drug and our customers. Today, we introduce Chris Wright, one of the many Hearts of Hartig.
Chris Wright is the Store Manager for the Hartig Drug in Iowa City, Iowa. He attended Linn-Mar High School and graduated from the University of Iowa in 1989.
Originally from Marion, Iowa. Chris now calls Fairfax, Iowa, home.
Chris is celebrating his tenth year with Hartig Drug. He has over 30 years of experience managing drugstores. Chris's drugstore operations and management knowledge have been an invaluable asset to the company and colleagues.
When asked what his favorite part about working at Hartig Drug was, Chris simply stated, "The small and family-friendly environment." This is extremely important for Chris as he has two daughters, Briana and Jordan, and a French bulldog, Bentley, who make up his family.
Chris loves to travel specifically to the Caribbean! He also enjoys boating and playing golf. On occasion, Chris has even been known to drink an "Irish Car Bomb" or two.
A man of few words, Chris's wisdom and leadership truly make him a Heart of Hartig.
"I want to thank Hartig Drug Company for allowing me the resources to care for my family and live a good life," Chris exclaimed.
Thank you, Chris! Your team in Iowa City and Hartig Drug as a whole is better with you as part of it!
Are you interested in a career at Hartig Drug Company? Apply today at www.hartigdrug.com/careers.