October 18, 2021
Hartig Drug Company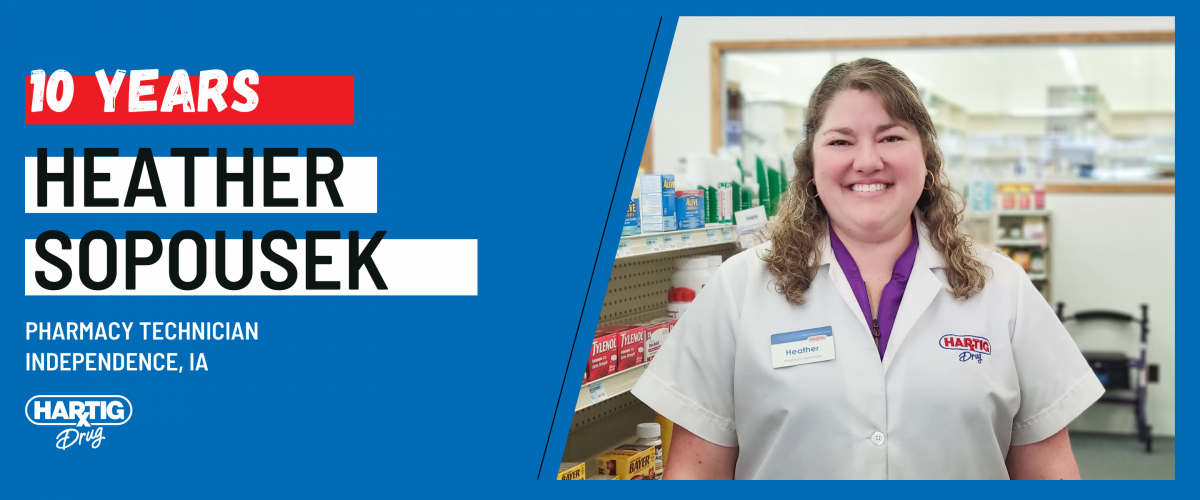 Hartig Drug Company customers are at the core of everything we do, and our employees are how we do it. Hartig Drug employees are the heart that keeps Hartig beating, and we thank all of our employees for their dedication to Hartig Drug and our customers. Today, we introduce Heather Sopousek, one of the many Hearts of Hartig.
Heather Sopousek is a Certified Pharmacy Technician at the Hartig Drug in Independence, Iowa. Originally from La Crosse, Wisconsin, and Cedar Rapids, Iowa, Heather and her husband Chad call Independence home.
Heather has been with Hartig Drug for 10 years! Her favorite part about working for Hartig Drug is her coworkers and the small-town feel Hartig and Independence give her.
With her spunky, friendly attitude, Heather is sure to brighten anyone's day! Her helpfulness is known by all who stop at the Independence Hartig Drug, her coworkers, and Hartig Drug Company as a whole. Heather puts her heart into all she does at Hartig, making her bona fide Heart of Hartig.
Most people that know Heather will tell you she LOVES the Green Bay Packers! She also enjoys spending time with family, golfing with her husband, and reading a good book.
Heather and her husband have two dogs, Bailey and Ally.
"I want to thank Hartig Drug Company for providing a great work environment," Heather exclaimed.
Thank you, Heather, for your never-ending smiles, patience, and care. Hartig Drug is blessed to have you in Independence!
Looking for a new career? Hartig Drug is hiring! See job openings at www.hartigdrug.com/careers.