December 14, 2021
Hartig Drug Company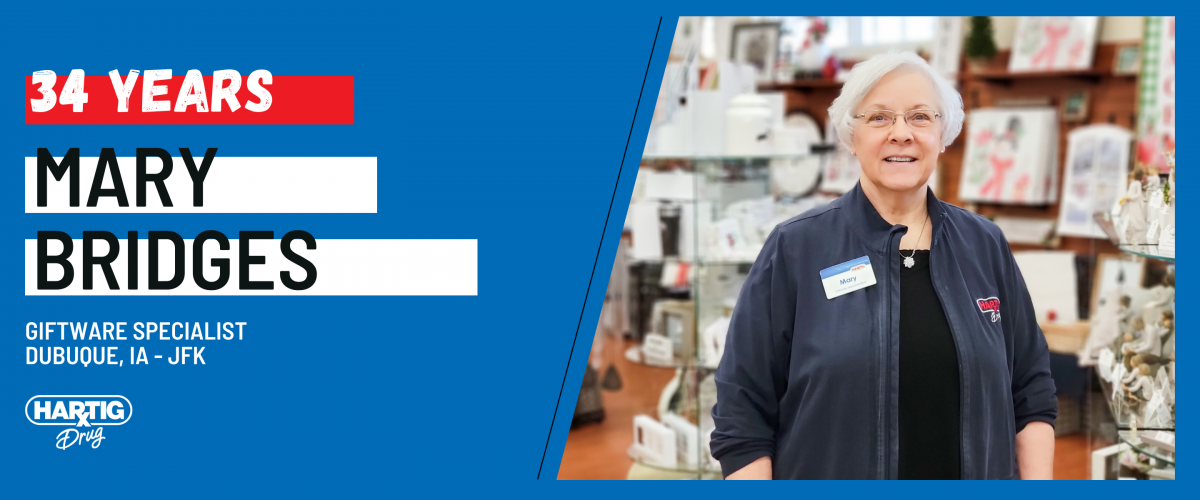 Hartig Drug Company customers are at the core of everything we do, and our employees are how we do it. Hartig Drug employees are the heart that keeps Hartig beating, and we thank all of our employees for their dedication to Hartig Drug and our customers. Today, we introduce Mary Bridges, one of the many Hearts of Hartig.
Mary Bridges has worked at Hartig Drug Company for nearly 35 years! She started as a cashier, but now you can find her in the Gift and Home Décor area at the Dubuque JFK location. As a Giftware Specialist, Mary is a member of the gift and home décor buying team and a gift merchandiser.
Mary's journey began in Cascade, Iowa. She attended Capri Cosmetology School and graduated in 1969. Mary resides in Dubuque and gives back to the community through her church. When not working, Mary loves spending time with her two children and four grandchildren and doing anything of a creative nature. She enjoys perusing Pinterest, gathering ideas for both work and around her own home.
Mary's talent and significant role at Hartig Drug is no secret for those who have seen her beautiful gift baskets or wonderful displays. When asked about her favorite part of working at Hartig Drug, Mary said, "I am a creative person by nature, and I get to use that gift daily. Be it doing displays of merchandise or creative gift baskets for sale at the store."
Mary's extensive knowledge, hard work, and personable attitude have contributed to the growth of Hartig Drug's gift and home décor line, making Hartig Drug a local destination for those items.
Mary stated, "I want to thank Dick Hartig for taking a chance on me 34 years ago and having been able to move up from a cashier to being part of the gift buying team and doing the merchandising for the JFK store. I am humbled and grateful to have found my dream job and to be able to work at it for so many years."
Thank you, Mary, for the nonstop work ethic, attention to detail, and impeccable taste. Hartig Drug and our patrons are blessed to have you!
Looking for a new career? Hartig Drug is hiring! See job openings at www.hartigdrug.com/careers.