September 29, 2021
Hartig Drug Company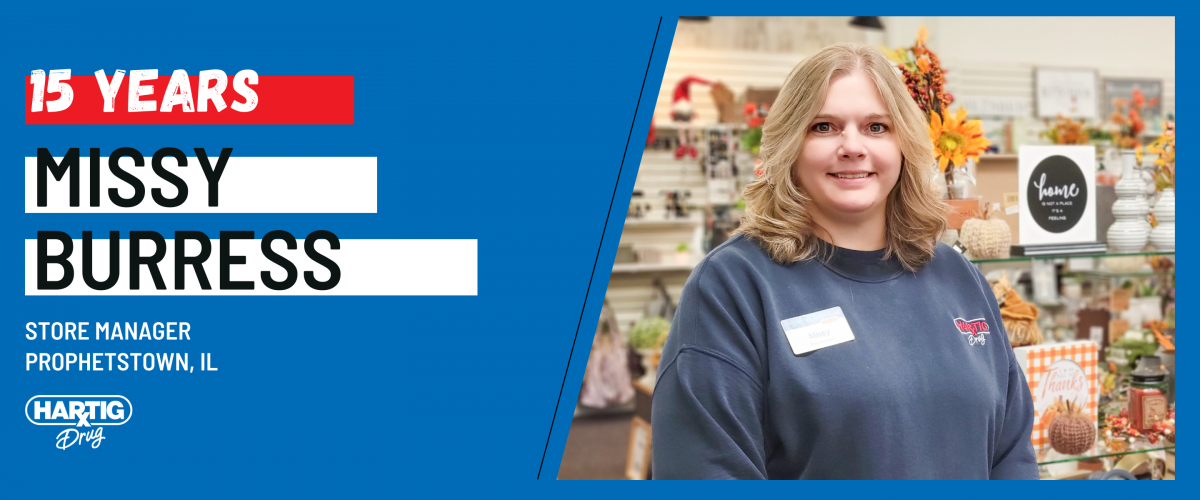 Hartig Drug Company customers are at the core of everything we do, and our employees are how we do it. Hartig Drug employees are the heart that keeps Hartig beating. We thank all of our employees for their dedication to Hartig Drug and our customers. Today, we introduce Missy Burress, one of the many Hearts of Hartig.
Missy Burress is the Store Manager at the Prophetstown, Illinois, Hartig Drug. While attending Prophetstown High School, she was placed in a sales position at a local jewelry store, where she found a passion for retail and sales. Missy took two years of marketing and sales courses at Whiteside Area Vocational Center and attended Sauk Valley Community College. Eventually, she found her way back to retail and management.
Missy spent a portion of her childhood in Lyndon, Illinois, and has called Prophetstown, Illinois, home for many years. She previously was the manager at the local Subway before joining Hartig Drug Company 15 years ago, this year!
When asked what Missy's favorite part about working for Hartig Drug is, she explained how much she enjoys being the one to help people find what they need and want. Missy says she loves the happiness she can provide a customer searching for a medication or gift item when she finds them precisely what they need.
Missy has two sons, Nick and Justin, and a beautiful tortoiseshell Persian cat, Penny. She said her greatest accomplishment in life is her children. Missy talks about her two boys – her pride and joy – they are funny, creative, hardworking men. She enjoys spending time with Nick's three children, Crosby, Remy, and Beckett, and watching Justin's band, ALBORN. She also loves old cars; she and her husband have a 1971 Chevelle and a 1979 Trans Am. Missy has a knack for baking and always brings cookies or cupcakes around for friends, family, and colleagues!
Missy finds time to volunteer for the Prophetstown Main Street Committee when she isn't having a sleepover with her grandsons. Her support of Prophetstown and its people shines through in all she does at Hartig Drug, making her a sincere Heart of Hartig.
"I enjoy my days. Not everyone can say that. I am surrounded by great customers who make me smile and fun coworkers who make me laugh. I am forever thankful that Hartig chose me as manager and that Prophetstown is part of their family-owned growing company," Missy said.
Thank you, Missy! Your love for the community members of Prophetstown and Hartig Drug makes us so proud!
Looking for a new career? Hartig Drug is hiring! See job openings at www.hartigdrug.com/careers.