July 22, 2021
Hartig Drug Company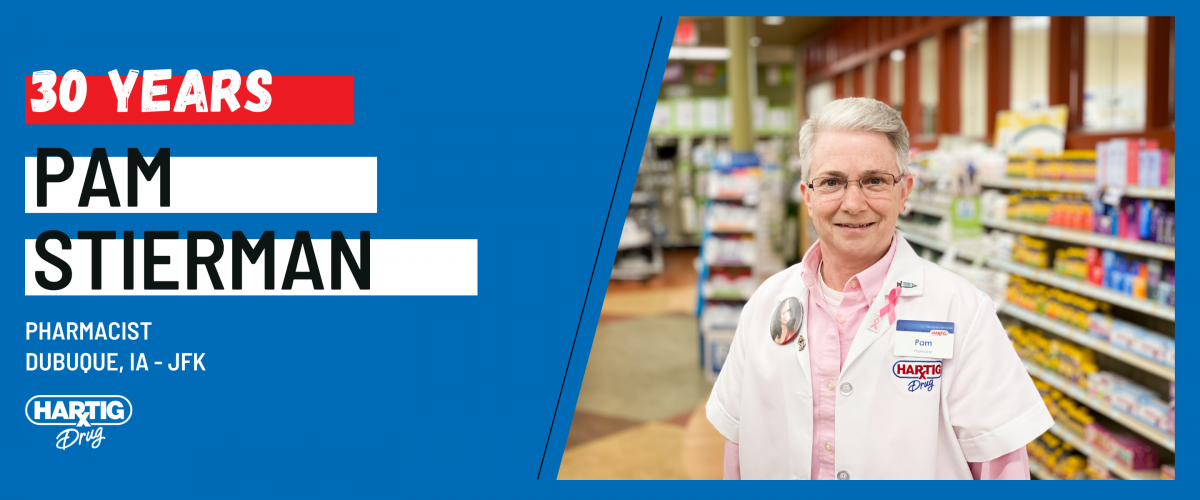 Hartig Drug Company customers are at the core of everything we do, and our employees are how we do it. Hartig Drug employees are the heart that keeps Hartig beating. We thank all of our employees for their dedication to Hartig Drug and our customers. Today, we introduce Pam Stierman, one of the many Hearts of Hartig.
Pam Stierman, RPh, is a Pharmacist at Hartig Drug Company. She celebrated 30 years with the company in May 2021.
Raised in Dubuque, Iowa, Pam attended Wahlert High School. She graduated from Loras College in 1988 with a degree in biology and then graduated from the University of Iowa in 1991 with her pharmacy degree.
Having worked with Hartig Drug for so long, Pam stated that her favorite part is, "Getting to know my patients and coworkers."
Pam is the proud mother to her daughter Cindy, who is currently attending St. Ambrose University in the Master of Physician Assistant Studies program. She is also a 14-year breast cancer survivor! Though her battle was tough, Pam always felt supported by her family, friends, and Hartig Drug Company.
Pam enjoys biking, playing pickleball, volleyball, tennis, and walking her five-year-old Pomsky (Pomeranian/Husky mix), Luna—a furry member of her family. She also volunteers with the Catholic Order of Foresters, Holy Spirit Parish, and Breast of Friends.
Pam's heart shines through in her dedication to her patients – making her a true Heart of Hartig.
"I would like to thank Richard Hartig for hiring me to work for Hartig Drug 30 years ago. I interned at Hartig and was very excited to accept a pharmacist position in my hometown. The Hartig family and my family have seen many changes over the last 30 years. I have watched Charlie and Wes grow into successful young men ready to lead Hartig Drug and MedOne into the future. Hartig Drug was there for me when I got married, had my daughter Cindy, and through a tough battle with breast cancer. I would not have made it through life's ups and downs without the support of family and friends, including Hartig Drug and all of my coworkers. Thank you for acknowledging my 30 years of service to Hartig Drug Company. May we have many more years together because... I am truly 'HERE FOR LIFE,'" said Pam.
Thank you, Pam, for your endless commitment to your patients. Hartig Drug is grateful for employees like you!
Are you interested in a career at Hartig Drug Company? Apply today at www.hartigdrug.com/careers.