June 8, 2021
Hartig Drug Company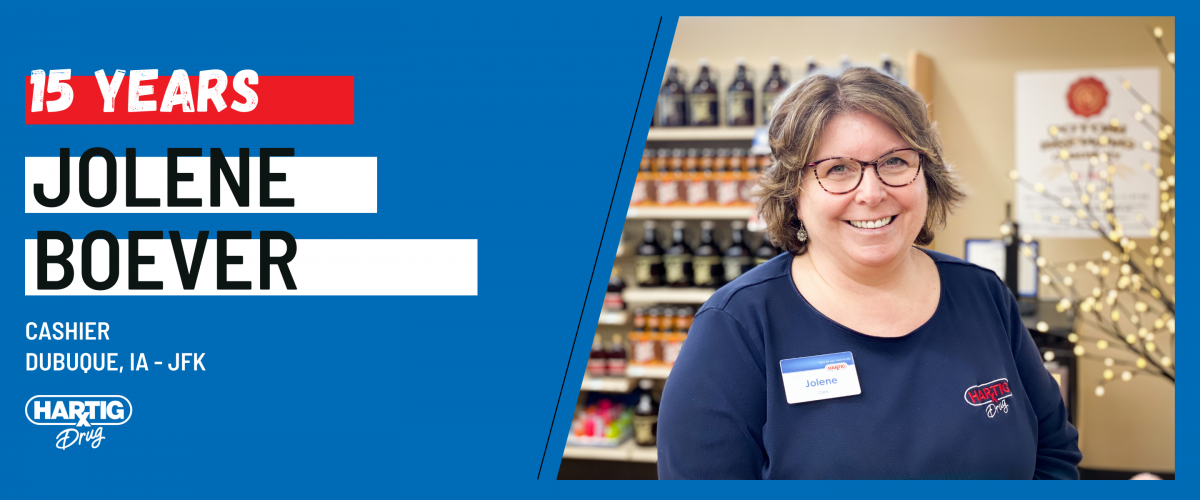 Hartig Drug Company customers are at the core of everything we do, and our employees are how we do it. Hartig Drug employees are the hearts that keep Hartig beating. We thank all of our employees for their dedication to Hartig Drug Company and their dedication to our customers. Today, we introduce Jolene Boever, one of the many Hearts of Hartig.
Born and raised in Dubuque, Iowa, Jolene Boever works as a cashier at Hartig Drug Company. Her friendly, outgoing personality is known by all who shop at the Hartig Drug on JFK in Dubuque. In March 2021, Jolene hit her 15th anniversary with Hartig Drug.
When asked what her favorite part about working at Hartig Drug, Jolene commented, "The customers! I enjoy people and helping people with anything they need."
Jolene says she has a funny personality that customers enjoy. She feels like her customers are family, and she has been told that shopping at Hartig Drug is like Cheers, "where everybody knows your name."
When not kept busy working at Hartig, Jolene also works at another business—putting in over 62 hours of work a week! That doesn't stop her from enjoying the small things in life. She loves to garden, do yard work, spend time with family, and she loves dancing.
Jolene has two children daughter Ashley and her son Adam. Ashley is married to Ryan, and together they have a beautiful daughter, Ava. Jolene loves to spend time with her children and granddaughter, and she relishes spending time with her sisters and brother!
Jolene is a true Heart of Hartig, keeping the JFK store lively and vibrant each day she works.
"I want to thank Hartig Drug Company for 15 years of enjoyment. Not a day working here has felt like 'work.' I love the people at Hartig Drug, so thank you for allowing me to continue to be a part of this wonderful organization," said Jolene.
Thank you, Jolene, for all the hard work. Hartig Drug is lucky to have you!
Are you interested in a career at Hartig Drug Company? Apply today at www.hartigdrug.com/careers.