August 27, 2021
Cody Freiburger, CPhT, Pharmacy Services Assistant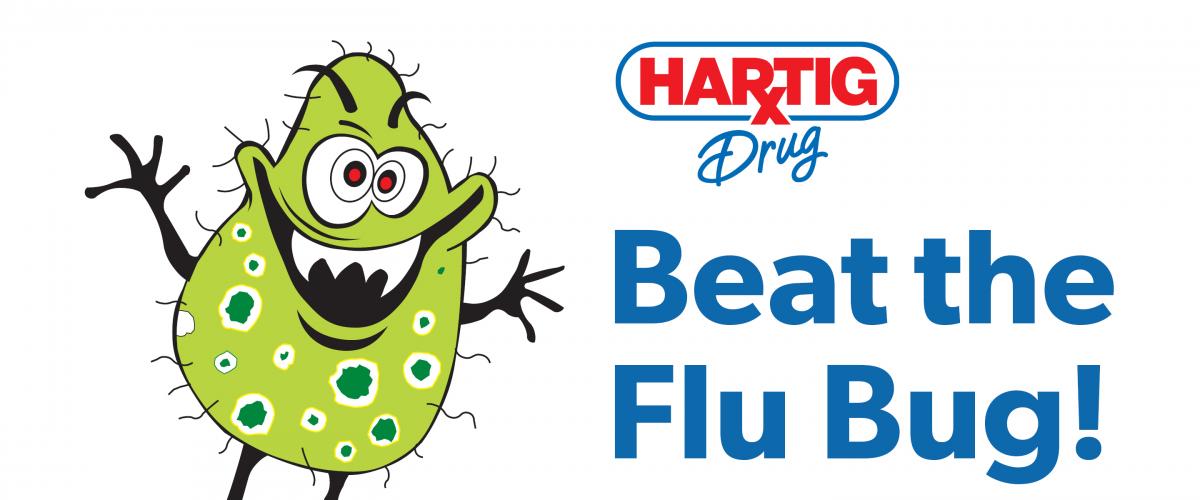 With flu season quickly approaching, now is the time to be proactive about our health. However, before we can take the appropriate steps, we must first answer questions about influenza, myths and misconceptions, and how we can prevent the spread of it.
What is Influenza?
Influenza, commonly called the "flu," is a highly contagious virus that infects the respiratory system. This can cause mild to severe illness and sometimes result in death. The influenza virus is spread by tiny droplets made when infected people cough, sneeze, or talk. According to the Centers for Disease Control and Prevention (CDC), flu season is usually during the fall and winter months when the virus is most active.
How can I protect myself from getting sick?
There are many steps you can take to protect yourself and others from getting sick.
Practice good hand hygiene.
Cover your mouth when you cough.
Avoid close contact with others who may be sick.
Regularly clean and disinfect commonly touched surfaces.
Wear a mask.
All of these are great practices to have, but the No. 1 way to protect yourself and prevent the spread of influenza is to get vaccinated! 
Who should get vaccinated?
The short answer is everyone. However, there are always exceptions to the rules. Infants under 6 months old and individuals with specific health conditions are among those exceptions. Talk to your doctor if you are unsure of where you stand.
Myths and Misconceptions about Influenza and the Flu Vaccine.
1. The flu is just a bad cold.
Although some flu symptoms are parallel to the common cold, they are not the same.  Here are some ways the two differ:
| | | |
| --- | --- | --- |
| | Cold | Flu |
| Symptom Onset | Gradual | Abrupt |
| Fever | Rare | usual; last 3-4 days |
| Aches and Pains | Slight | Usual; often severe |
| Chills | Uncommon | Fairly common |
| Fatigue | Sometimes | Usual |
| Chest Discomfort, Cough | Mild to moderate | Common; can be severe |
| Sneezing, Sore Throat, or Stuffy Nose | Common | Sometimes |
2. Healthy people don't need to get vaccinated, and you can't spread the virus if you're feeling well.
Approximately 20 to 30 percent of infected individuals show no signs of symptoms. While it's important for people with chronic illnesses to get vaccinated, the vaccine is recommended for everyone. Even if you're healthy and think you can handle getting sick, you might spread the flu to someone who isn't as fortunate.
3. You don't need to get the flu shot every year.
The influenza virus changes (mutates) each year. Getting the vaccine annually helps ensure you have immunity to strains most likely to cause an outbreak.
4. You can catch the flu from the vaccine.
The flu shot is made from an inactive virus and can't transmit infection. People that get sick were likely to get sick anyway. It takes 7 to 14 days for the vaccine to provide protection. You cannot catch the flu from going outside with your hair wet during the winter or sitting near a drafty window.
5. Pregnant women can't get vaccinated.
The CDC recommends that expecting mothers get vaccinated because they are at a higher risk for infections. The vaccine even protects the baby for months after birth, which is beneficial because children under 6 months are not eligible for vaccination. However, pregnant women must have the vaccine administered by injection versus nasal application.
Influenza is one of the prime examples of how medical myths and misconceptions can hinder someone from quality medical care. When it comes time to take the necessary steps in staying healthy this flu season, make sure you visit your local pharmacy, health care provider, or anywhere that provides vaccines and get your flu shot!
For additional information on influenza and the flu vaccine at Hartig Drug, please click here or visit the Centers for Disease Control and Prevention (CDC) here.
Hartig Drug is now offering flu shots at all locations. For more information, please click here.
Beat the Flu Bug at Hartig Drug!
Stop by your local Hartig Drug location and get your flu shot today!