June 22, 2021
Rebecca Fitzpatrick, PharmD, Pharmacist/Clinical Services Coordinator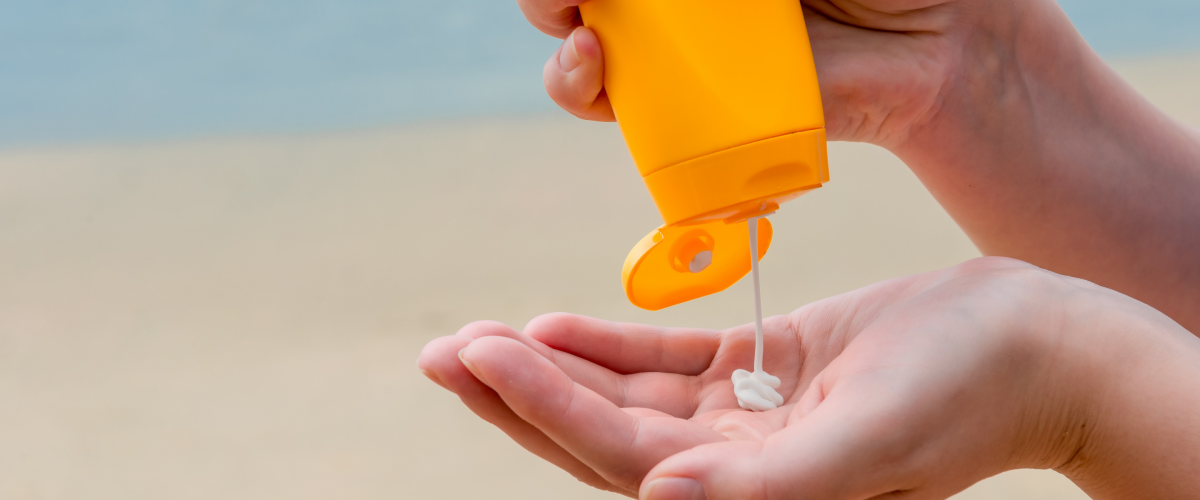 The sun is shining! The weather is warming up! Vaccinations are allowing people to get out and about! It's time to enjoy the great outdoors! That means it's time to talk about sun safety.
Spending time outside helps increase physical activity, reduces stress, and boosts your Vitamin D. All great things! But, fun in the sun can also increase your risk of skin cancer, the most common cancer in the United States. 
Here Are 5 Ways to Protect Your Skin from the Sun:
Shade - Whether you are under an umbrella, tree, or other shelters, shade can help reduce your risk of sun damage and skin cancer. 
Clothing - Clothes with tightly woven fabric or those certified under international standards offering UV protection are the best forms of protection. If these are not practical, try a t-shirt or beach cover-up.
Hat - It is best to pick a hat with a brim and tightly woven fabric that can cover your face, ears, and back of your neck. If choosing a baseball cap, make sure to use clothing or sunscreen to cover your ears and the back of your neck. 
Sunglasses - The skin around your eyes is very sensitive, and UV rays can increase the risk of cataracts. Try to pick a pair of sunglasses that block both UVA and UVB rays. 
Sunscreen -
The best sunscreen has a Sun Protection Factor (SPF) of 15 or higher AND blocks UVA and UVB rays. It works best in combination with other options, like shade and clothing, but should only be used on those six months or older. 
Try to apply before sun exposure or at least within 20 minutes of being outside. Remember to reapply if you are out in the sun for two or more hours or after swimming, sweating, or toweling off. 
Sunscreens can use the water-resistant designation after undergoing testing with the Food and Drug Administration (FDA). Water-resistant means the sunscreen will work for 40 minutes in the water. Very water-resistant means the sunscreen works for 80 minutes in the water. 
The average adult is recommended to use 1 oz. of sunscreen (i.e., the size of a shot glass or palmful) to cover the arms, legs, neck, and face. Pay special attention to the face, ears, neck, arms, and other areas not covered by clothing. And don't forget to use lip balm with SPF because your lips can burn, just like the rest of your body!
Always check the expiration date of your sunscreen. If there is no expiration date listed, it should not be used for more than three years. It also won't last as long if it has been exposed to high temperatures. 
Many people seek a sun-kissed glow in the summer. But, even if your goal is to tan, it is crucial to apply sunscreen before, no matter what. A sunscreen of SPF 30 can help block the harmful rays while still allowing you to develop a tan.  
Already have a sunburn? Follow these helpful hints on treating sunburns!
Get out of the sun, preferably indoors.
Relieve pain by taking frequent cool baths or showers. Remember to pat yourself dry gently but not entirely, and apply moisturizer to trap the water in your skin.
Moisturize with a product containing aloe vera or soy.
Take aspirin or ibuprofen if needed for swelling, redness, or pain.
Drink plenty of water! Burns pull water from inside your body to the skin surface, so it's essential to drink extra water to prevent dehydration.
If blistering happens, allow the blisters to heal without popping—this protects you from infection.
Ongoing skincare and cancer screening/prevention
It is important to see a dermatologist regularly if you have a fair complexion, use indoor tanning beds, or have a history of sunburns or previous skin cancer. It is also recommended to perform monthly skin self-examinations to assess skin lesions using ABCDE criteria: asymmetry, border irregularity, color variability, diameter greater than 6 millimeters, or evolution over time.
Image by Skin Cancer and Reconstructive Surgery Center. ocskincancer.com
Anyone can get skin cancer, but people with certain characteristics are at greater risk—
A lighter natural skin color
Skin that burns, freckles, reddens easily, or becomes painful in the sun
Blue or green eyes
Blond or red hair
Certain types of and a large number of moles
A family history of skin cancer
A personal history of skin cancer
Older age
Still need to pick up sunscreen for the summer?
Stop by your local Hartig Drug today!