January 5, 2021
Rebecca Fitzpatrick, PharmD, Pharmacist/Clinical Services Coordinator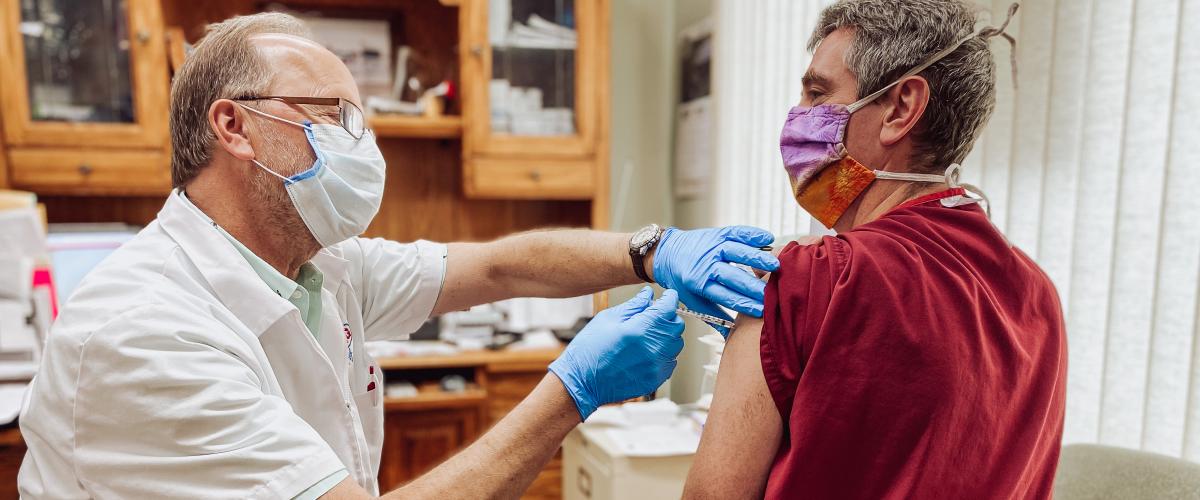 We know you may have a lot of questions regarding the COVID-19 Vaccine and we are here to help! So, let's get started in answering some of your most pressing questions.
1.    WHAT VACCINES HAVE BEEN AUTHORIZED?
The FDA has now authorized two COVID-19 vaccines for emergency use including the Pfizer-BioNTech Vaccine and Moderna Vaccine.
COVID-19 Vaccine Information

 

Moderna

Pfizer-BioNTech

Efficacy

94.1% following 2 doses

(14 days after dose 2)

95% following 2 doses

(7 days after dose 2)

Age Groups

≥18 years

≥16 years

Vaccine Series

2 doses 4 weeks apart

(28 days)

2 doses 3 weeks apart (21 days)

Vaccine Type

mRNA (not live)

mRNA (not live)

Administration

Intramuscular

Intramuscular

Common Side Effects

Injection site pain, tiredness, headache, muscle pain, chills, joint pain, & fever

Trial Participants

30,350

36,621
NOTE -- At this time, it is unknown whether patients after receiving either vaccine are still able to develop asymptomatic COVID-19 and spread the virus. Continue to wear masks, social distance, etc even AFTER vaccination.
2.    WHAT IS AN MRNA VACCINE?
The MRNA vaccine is not a live vaccine, meaning, it cannot cause the disease. Generally thought to be safe in those who are immunocompromised BECAUSE they are not live.
The mRNA found in the COVID-19 vaccines is like instructions for the cells. These vaccines tell our body how to make a piece of the "spike protein" unique to COVID-19. After the spike protein is made, cells break down mRNA and dispose of it. MRNA never enters our cell's nucleus or affects genetic material. Once displayed on the cell surface, the protein causes the immune system to start producing antibodies & activating T-cells to fight off what it thinks is infection. This primes the immune system against a future COVID-19 infection.
3.    WHEN CAN I RECEIVE THE VACCINE?
Distribution of the COVID-19 vaccine has begun and is occurring in phases. During Phase 1, the federal government is allocating vaccines to states, including Iowa, Wisconsin and Illinois. Hartig Drug is currently administering the vaccine to health care workers & long term care residents in multiple communities, but the vaccine will not be available to the general public at any pharmacy retailers, including Hartig Drug during this phase.
Once the vaccine is available under Phase 1B, Hartig Drug and its pharmacy teams will be reaching out to eligible persons through phone calls, advertisements, social media, etc. to ensure that all patients know when and where they can sign up to receive vaccine.  We plan to use block scheduling (i.e., come in from 1-5pm on a given date) and are looking at additional appointment-based technologies to ensure smooth vaccine appointments. Hartig Drug's finalized vaccine planning and operations are still in preliminary stages as most of our initial vaccine supply is solely distributed and dictated by state government entities – that said, we are obligated to follow the State's direction in distribution and allocation of vaccination supplies.
Phase 1a focuses on immunizing healthcare workers and the most vulnerable members of our population, including Long Term Care Facility Residents.
Phase 1b includes essential workers and people aged ≥75 years will be included. Please see link for those included in essential workers https://www.cdc.gov/vaccines/hcp/acip-recs/vacc-specific/covid-19/evidence-table-phase-1b-1c.html
Phase 1c will include people aged 65-74 years and people aged 16-64 years with medical conditions that increase the risk for severe COVID-19.
As an official COVID-19 Vaccination Program Provider through our partnership with the Iowa Department of Public Health (IDPH) and the Centers for Disease Control (CDC), vaccines will be available for additional populations at Hartig Drug during later phases. We hope to move into the second phase of distribution in the spring/summer of 2021.
Find out which phase you and your loved ones are in!
Take this quick survey to find out how many people may get a COVID-19 vaccine before you?https://dig.abclocal.go.com/ccg/interactives/vaccine-calculator/index.html
4.    HOW CAN I PROTECT MYSELF TODAY?
As we eagerly wait to distribute additional vaccines, here are a few key steps you can take now to protect you and your family:
Continue to stay updated by following local, state and federal public health guidelines, including wearing masks, social distancing and practicing good hygiene.
Prioritize a healthy diet, self-care, exercise and sleep. Each of which play a significant role in immunity health.
Consider ways to naturally support your immune system by adding immunity supplements and vitamins to your daily regimen. These include but are not limited to Vitamin D3, Elderberry and Vitamin C. Make sure to check with your pharmacist or doctor about adding these medications as some of them may interact with medications you are currently taking.  Max recommended OTC dose of Vitamin D3 = 1000units to 5000 units once daily. Studies so far have shown vitamin D may only be helpful in those who are already low in vitamin D. There are routine blood tests which can show you the level of vitamin D3 in your body. Vitamin D is 1 of the four vitamins that we can get too much of, so be cautious with your intake (ADEK).
HARTIG IS HERE FOR YOU.
Covid-19 vaccine information is progressing rapidly and new information is emerging every day. Please continue to check back regularly for updates and new information.
In the meantime, remember Hartig Drug is here for you!
Please visit cdc.gov or your state health department for additional details and guidance of the vaccine and its distribution.