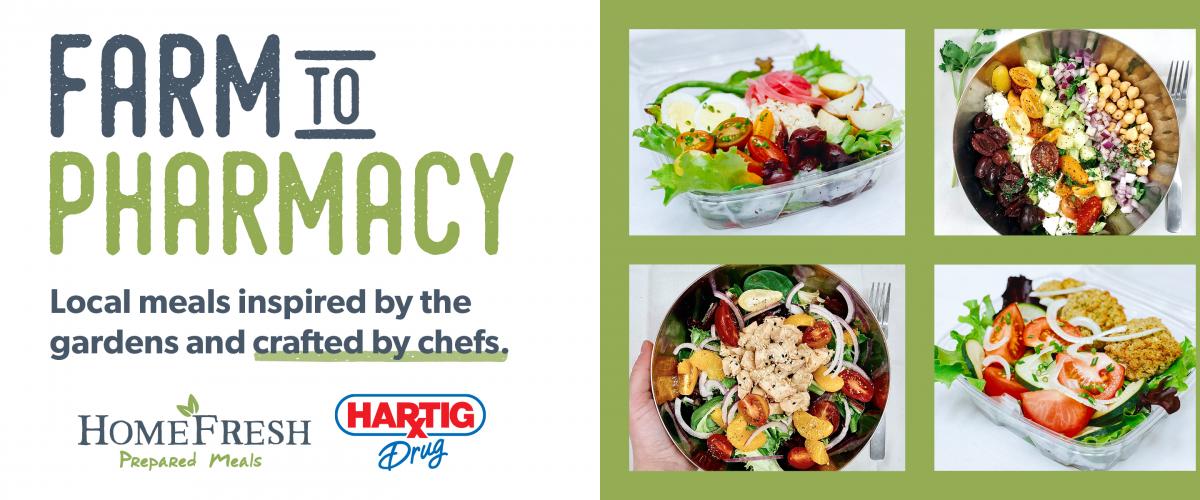 DUBUQUE, Iowa – Hartig Drug Company is pleased to announce its partnership with HomeFresh Prepared Meals – a Dubuque-based prepared meal service that is a collaboration between Convivium Urban Farmstead and City Girl Farming.
Hartig Drug will offer a limited selection of HomeFresh's salad options at the John F. Kennedy and University Avenue Hartig Drug locations, bringing the Farm to Pharmacy. Included in the selection are falafel salad, salad niçoise, sesame chicken salad, and Mediterranean chopped salad.
Sales will begin on Monday, July 12, 2021.
Hartig Drug currently partners with over 20 local businesses selling more than 100 local products throughout its 23 locations.
Wes Hartig, MedOne CEO and Hartig Drug Company Board Member, says that this partnership is another way that Hartig is partnering with small local businesses to feature their products in a retail setting.
"It has always been part of our culture as an organization to be closely affiliated with the communities we serve," Hartig said. "By partnering with HomeFresh, we are continuing that tradition while also offering our customers a healthy, fresh lunch or dinner option."
For the last two years, HomeFresh has provided the Dubuque area with healthy, fresh, fully prepared meals using local ingredients whenever possible. HomeFresh strives to marry the concepts of healthy and convenient through its weekly selection of entrées that can be purchased online.
Offering these selections in a retail setting at Hartig Drug is another way for HomeFresh to accomplish this objective.
"We are excited to be able to provide some of our HomeFresh meals to those looking for healthy on-the-go lunch or dinner options," says Justyna Miranda of HomeFresh. "We believe in the healing power of food, and so it makes sense for us to feature our meals in a store that exists to help people feel better."
HomeFresh Prepared Meals will host two free tasting events at Hartig Drug stores. Thursday, July 15, 2021, 11:30 a.m. to 1 p.m. at Hartig Drug, 2255 John F Kennedy Rd UNIT 16, Dubuque, IA 52002 and Tuesday, July 20, 11:30 a.m. to 1 p.m. at Hartig Drug, 1600 University Ave, Dubuque, IA 52001.
Hartig Drug Company
Hartig Drug Company (Hartig Drug) is a local, family-owned, and operated group of pharmacies located in the Iowa, Wisconsin, and Illinois tri-state region. Hartig Drug was founded over 115 years ago by A. J. Hartig.
Through community pharmacy, senior care (LTC) pharmacy, hospital pharmacy, and durable medical equipment locations, Hartig Drug Company is committed to providing convenient, personalized health consulting, pharmaceutical products, and consumer goods. As a local, small business Hartig Drug offers personalized services in touch with its local community roots. Our employees live, work, and play in the same communities in which we operate. The connection to the community drives us every day to provide the best possible service and products to our customers.
HomeFresh Prepared Meals
HomeFresh Prepared Meals (HomeFresh) is a prepared meal service that is a collaboration between Convivium Urban Farmstead and City Girl Farming. HomeFresh offers fresh, unique weekly prepared meals for your table or freezer. These are not meal kits as you might receive in the mail, but rather fully prepared meals that require minimal preparation (preheat the oven – warm through – serve). Each meal comes with preparation instructions and nutrition information. www.convivium-dbq.com/homefresh/ 563-557-2900