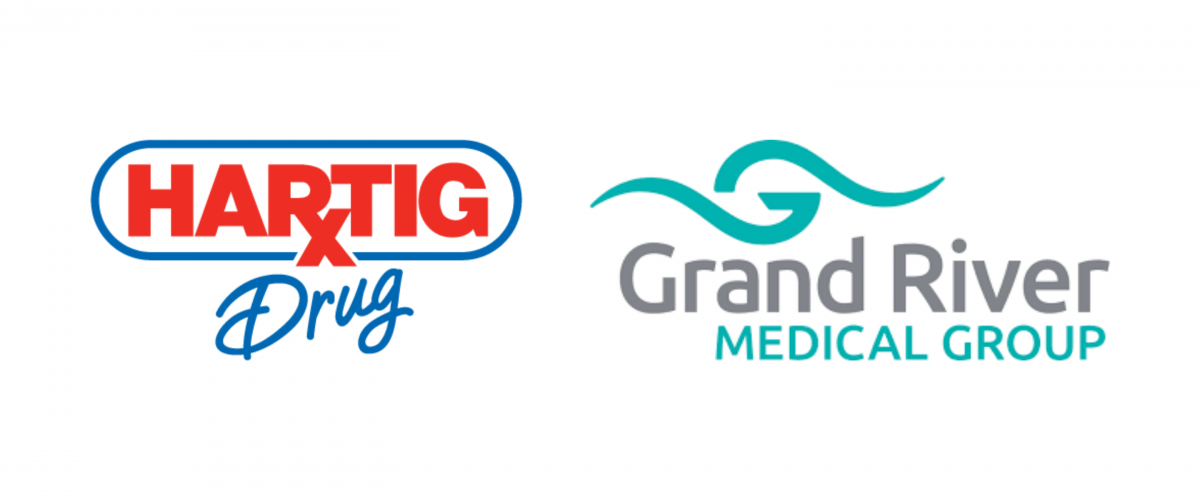 DUBUQUE, Iowa – Hartig Drug Company and Grand River Medical Group are pleased to announce a partnership to open a Hartig Drug pharmacy inside the newly developed Grand River Medical Group-West location on Westmark Drive. This partnership demonstrates Hartig Drug's commitment to collaborating with other local health care providers, as well as Grand River Medical Group's mission to providing patient-centered, high-quality healthcare to patients of all ages.
The new Hartig Drug location will provide added convenience to the tri-state community, offering a full-service pharmacy with a drive-thru. In addition, Grand River Medical Group patients will have the benefits of receiving care and their prescriptions in the same location.
Construction on the Grand River Medical Group-West location is underway and is expected to be completed in spring 2022. With the added benefit of the pharmacy location, additional permits and site work will continue over the next month. This includes phase two of construction, allowing a buildout on the westside of the building to accommodate the drive-thru for the pharmacy.
"Grand River Medical Group is excited to build local relationships that benefit our patients and community," said Justin Hafner, CEO of Grand River Medical Group. "It is great to partner with another local healthcare provider that is working towards the same goals as Grand River – better the health of our community while also focusing on the patient experience."
The pharmacy will be smaller than traditional Hartig Drug locations in Dubuque while still offering pharmacy services and a wide selection of medical supplies and over-the-counter medications. The new pharmacy location will operate during the same hours as the clinic and give Grand River Medical Group patients access to their necessary pharmaceuticals prior to or following appointments to enhance patient care.
"Hartig Drug is proud to partner with Grand River Medical Group to complement its healthcare services with Hartig Drug's pharmacy expertise and a team of community pharmacists," said Charlie Hartig, CEO of Hartig Drug Company. "Our role as pharmacists has never been more critical, and our partnership with Grand River will enable us to provide the tri-state area with convenient access to high-quality, personalized pharmacy care in close coordination with their physician."
About Hartig Drug Company
Hartig Drug Company (Hartig Drug) is a local, family-owned, and operated group of pharmacies located in the Iowa, Wisconsin, and Illinois tri-state region. Hartig Drug was founded over 115 years ago by A. J. Hartig.
Through community pharmacy, senior care (LTC) pharmacy, hospital pharmacy, and durable medical equipment locations, Hartig Drug Company is committed to providing convenient, personalized health consulting, pharmaceutical products, and consumer goods. As a local, small business Hartig Drug offers personalized services in touch with its local community roots. Our employees live, work, and play in the same communities in which we operate. The connection to the community drives us every day to provide the best possible service and products to our customers.
About Grand River Medical Group
Grand River Medical Group is a healthcare clinic located in Dubuque, IA providing primary and specialty care to patients of all ages.
Our mission to be the area's trusted choice by providing patient-centered, high quality healthcare to patients of all ages, in a physician-led, professionally managed organization. Founded in 2016 when three clinics, formerly known as, Dubuque Family Practice, Dubuque Internal Medicine, and Dubuque Pediatrics merged. We currently have seven clinic locations, two urgent/acute care locations, and four dialysis units. Grand River Medical Group consists of more than 360 team members, including over 60 physicians and advanced practice professionals (nurse practitioners and physician assistants). Specialties include; Family Medicine, Internal Medicine, Pediatrics, Allergy, Dermatology, Endocrinology, Gastroenterology, Nephrology, Oncology, Pulmonology & Critical Care, Travel Medicine, as well as a robust Hospitalist Program.