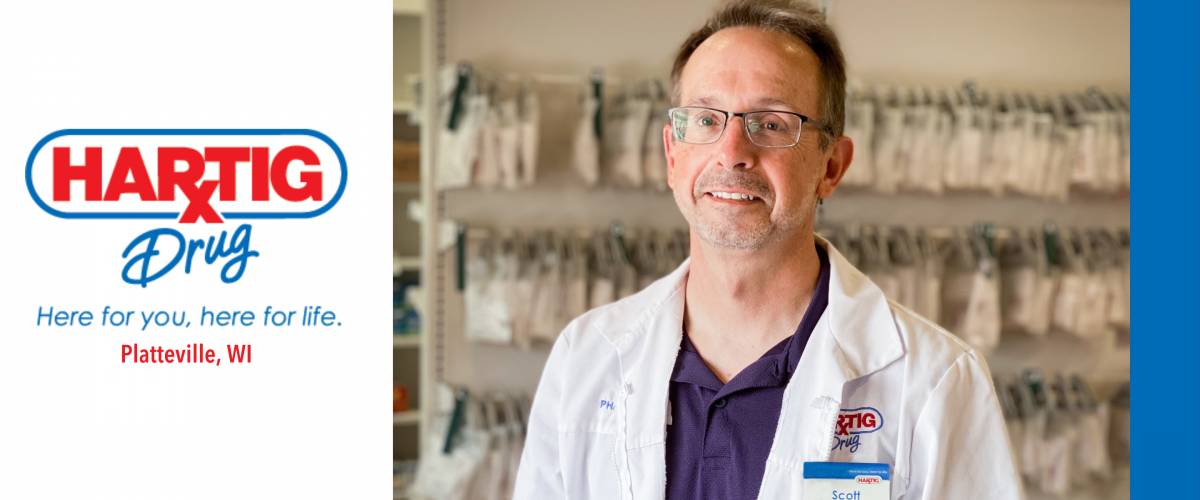 Thursday, September 23, 2021
DUBUQUE, Iowa – Hartig Drug Company is excited to announce the location move for Managing Pharmacist Scott Roth, RPh, to Hartig Drug in Platteville, Wisconsin
Scott graduated from the School of Pharmacy at the University of Wisconsin-Madison. He was previously the Pharmacy Manager at the Hartig Drug on Central Avenue in Dubuque, Iowa.
Scott is responsible for overseeing the daily operations of the Platteville Hartig Drug pharmacy. Including advising patients, dispensing prescription medication, and managing pharmacy staff.
With parents who had medical backgrounds, his mother a nurse and father a veterinarian, Scott's interest in pharmacy began as a child. He states, "Pharmacy allows me to apply that interest and help patients."
In his free time, Scott enjoys bike riding, traveling, and fishing.
Scott has called Platteville, Wisconsin, his home for over 20 years, and he is excited to reconnect to the community in which he and his wife raised their children.
Congratulations, Scott! Hartig Drug is excited for you to serve your hometown of Platteville!